Acolyte of Kaiben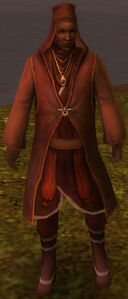 Classification
General
Quests Involved In
Location
Dialogue
"Come hear the word of Kaiben."
"Kaiben once beat an Avatar of Grenth to escape the Underworld."
"Kaiben says the true path of life can be found by having fun!"
Notes
This quest is only available to your characters as a result of entering the code contained in the November issue of PCGamer Magazine. *This quest is required in order to receive the limited edition miniature.
Community content is available under
CC-BY-NC-SA
unless otherwise noted.