Adepte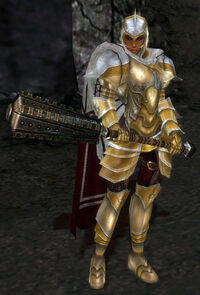 Classification
Description
Adepte is the Devastating henchman available in Heroes' Ascent.
Location
Dialogue
I left the White Mantle when I found out what we actually did with the Chosen. I tried joining the Shining Blade after that, but they said they couldn't trust me. Apparently they've had some trouble with spies recently. I was worried about finding work after that, so I'm glad that the Zaishen were hiring. Being a Justiciar had a lot of perks, though, and I really miss the respect I got when walking around Lion's Arch...
Don't give me that look. Here, let me show you my skills:
Skills used
Evaluation
Trivia
---
Community content is available under
CC-BY-NC-SA
unless otherwise noted.