Akemi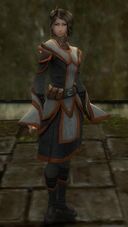 Classification
Akemi is a Scribe collector who awards Tengu weapons in exchange for an authorized copy of Togo's Story.
Location
Dialogue
"Emperor Kisu sent me as an ambassador of Cantha to learn from the great historian, Durmand. I have recently noticed copies of "Togo's Story" being passed around. We have a particular fondness for this tale back home. If you could spare any authorized copies you might have, I will gladly trade you one of these items."
Collector Items
Akemi
Location: Lion's Arch, Kaineng City and Kamadan
Collecting: 1 Togo's Story [Authorized]
Community content is available under
CC-BY-NC-SA
unless otherwise noted.