Akin Broadcrest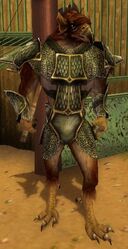 Classification
General
Akin Broadcrest is a weaponsmith in the Tengu village of Aerie.
For a fee of 10 gold he can customize a weapon for you. This will increase its damage by 20%, but means that no character other than the one it is customized for can use that weapon.
Location
Weapons Offered
None (Akin Broadcrest can only customize weapons, not craft new ones.)
Community content is available under
CC-BY-NC-SA
unless otherwise noted.