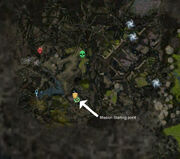 This is a mission entry. For information on the location Altrumm Ruins, see Altrumm Ruins (location).
Challenge Mission. Collect as much Amber as you can in 10 minutes.
Killing a boss gives a 60 second time bonus.
Raw Amber Chunks drop from defeated enemies (one for normal enemies, four or five from bosses) and Refined Amber Chunks can be found lying on the ground. Each chunk of amber collected, regardless of its type, is worth one point.
Objectives
Collect as much amber as possible before the timer runs out. Kill a boss to gain a time bonus.
Rewards
You will earn experience, gold, and Kurzick faction based on your success on completion of the mission. This is allocated by a sliding scale from 1-2000 where 2000 will be obtained by equaling the current all time record. There is then an additional 2000 points bonus for each record you beat (daily, monthly, all-time)
This will give you a total score from 1-8000. This total score will be the amount of faction gained. Half this score will be gained as experience, and a quarter of it will be gained in gold.
The reward is exactly Trunc(P*R) faction, Trunc(P*R/2) experience and Trunc(P*R/4) gold.
P = Point Scored.
R = Ratio = 2000/(best monthly score).

Scoring 100 points will increase your Kurzick faction cap by 1000. This only applies once.
Creatures
Monsters
Bosses (Elite Skill Captures)
Notes
Community content is available under
CC-BY-NC-SA
unless otherwise noted.