General Information
Area Name: Archipelagos
Region: Jade Sea
Description
Archipelagos is an explorable area in the area of the Jade Sea on the continent of Cantha. It is home to the Jade Arena and dotted with the outlandish fauna of the jade sea. As the name implies, it is centered around a chain of islands. The largest, in the Southeast, is home to what appears to be a Naga village.
Exits
Neighbour Cities, Missions, Outposts
Neighbour Areas
Points of Interest
Bestiary
Monsters
Bosses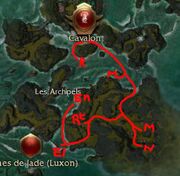 Pets
NPCs
Collectors
Quests
Archipelagos
Notes
Vanquisher Title: 159 - 238 foes. Varies if the following quests are active: Luxon Supply Lines, The Jade Arena.
If you take the Luxon Supply Lines quest, it appears this induces a chest or two to appear (sometimes with Kurzick attire coming from a Luxon chest!)
---
Community content is available under
CC-BY-NC-SA
unless otherwise noted.