General Information
Arkjok Ward is an explorable area in Kourna. The western half of it is open savannah, inhabited by the various wildlife of the region, especially in the Northwest, where there is a watering hole. Further to the east, on the banks of the river Elon, the area is irrigated, and there are farming villages. The southeasternmost part of the Ward is located on part of the delta of the Elon, where the Army maintains a fortress. Presumably the strategic value of this location is that it protects or controls the farming villages or to control the bridges that allow access to to Pogahn Passage from the west, or all three.
Exits
Neighboring Areas
Cities and Outposts
all sunspear bounties
Other Shrines
Creatures
NPCs
Merchants
Monsters
Bosses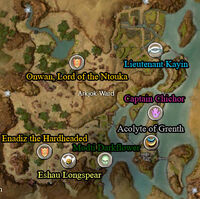 Quests
Arkjok Ward
Notes
When Vanquishing, be wary of the southern edge. There are large numbers of pop-ups and overlapping patrols, and it is easy to over-aggro.
There is a Buried Treasure on the northeast island, near the entrance to Jahai Bluffs.
This area is perfect for soloing as it has a merchant in the north east near the Buried Treasure All of the bosses in this area drop greens so working through and selling to the merchant can make a lot of money.
---
Community content is available under
CC-BY-NC-SA
unless otherwise noted.