Artemis the Ranger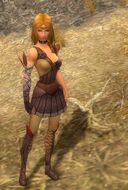 Classification
Artemis the Ranger is the profession trainer for new Ranger characters in the Prophecies campaign.
Quests Given
Quests Involved In
Location
Dialogue
"Such a beautiful day. What a shame to be at the city gates when the woods stretch out before us.
What brings you here?"
Artemis has followed Prince Rurik across the Shiverpeak Mountains.
Quests Given
Location
Notes
Community content is available under
CC-BY-NC-SA
unless otherwise noted.