Ashford Village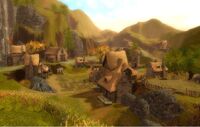 Basic Info
Neighbor(s)
None
Description
Ashford Village is the name of a large collection of homes and farms in Lakeside County in Pre-Searing Ascalon. It is located just outside Ashford Abbey. Its Post-Searing location is South-southeast of the Sardelac Sanitarium, where it lies in ruins.
NPCs
Quests
Pets
Notes
Community content is available under
CC-BY-NC-SA
unless otherwise noted.