Avatar of Grenth (NPC)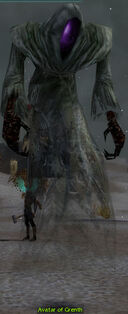 Classification
The level 24 Avatar of Grenth, not to be confused with the level 30 Voice of Grenth, or the Dervish elite skill Avatar of Grenth, competed with the Avatar of Dwayna (NPC) during the Wintersday competitions of 2005 and 2006.
Location
Dialogue
"As all mortals face the judgment of Grenth in the afterlife, so now the world lies helpless within the icy grip of the god of death. Those who mock his power with frivolous merriment risk bringing his wrath not only upon themselves but all the world."
Community content is available under
CC-BY-NC-SA
unless otherwise noted.