Avena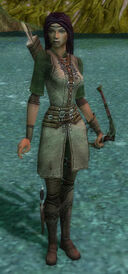 Classification
General
Avena is a skill trainer and member of the Shining Blade.
Location
Skills Offered
Note: Any skills that are not available as quest rewards are listed in bold.
Trainer
Warrior
Ranger
Monk
Necromancer
Mesmer
Elementalist
Avena at Maguuma Stade
Disciplined Stance, Heavy Blow
Maiming Strike, Scavenger Strike
Protective Bond, Watchful Spirit
Deathly Chill, Unholy Feast
Arcane Mimicry, Power Drain
Chain Lightning, Crystal Wave, Maelstrom
Community content is available under
CC-BY-NC-SA
unless otherwise noted.