Awakened Acolyte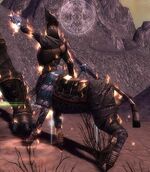 Classification
Description
Awakened Acolytes are undead centaurs raised to serve in Palawa Joko's undead army. When coupled with a few Awakened Cavaliers, these centaurs make killing the armies of Joko difficult, due to their adept use of bonding and resurrection spells, so dispatching them quickly is definitely a priority.
Location
Skills used
Nightfall
Known attributes: 15 (20) Smiting Prayers
Bonus Mission Pack
Items dropped
Community content is available under
CC-BY-NC-SA
unless otherwise noted.