Awakened Defiler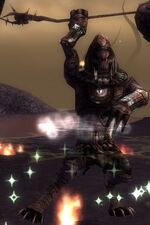 Classification
Description
Awakened Defilers are the necromancers of Palawa Joko's undead army. They are often seen in the groups of undead roaming the Desolation. They have the same general build as Charr and Tengu, with tails, feet, and claws similar to Charr and skulls that could be beakless Tengu skulls or hornless, jawless Charr skulls.
Location
Skills used
Nightfall
Bonus Mission Pack
Items dropped
Notes
Community content is available under
CC-BY-NC-SA
unless otherwise noted.