Awakened Gray Giant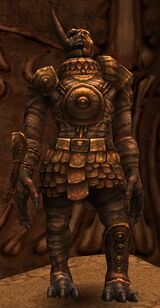 Classification
Description
Awakened Gray Giants are undead Gray Giants raised by Palawa Joko to serve in his army centuries ago when he tried to conquer all of Elona. Many of them can be seen roaming the Desolation in Elona today.
When an Awakened Gray Giant is greatly damaged or near death, sometimes it will drop its head as an Awakened Head and will fight separately from its body.
Location
Skills used
Nightfall
Bonus Mission Pack
Items dropped
Notes
Community content is available under
CC-BY-NC-SA
unless otherwise noted.