The Beetle Juice Tonic is a tonic that can be found in the Zaishen Chest.
Description
Double-click to transform yourself into a beetle. This item can only be used in a town or outpost. Item lasts for 50 minutes.
Notes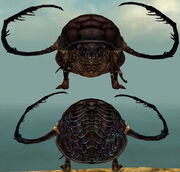 The rollerbeetle has a unique /dance emote.

Historical note: The Beetle Juice Tonic was originally a reward for players who participated in and/or correctly guessed the finishing positions of the top guilds in the Celestial Tournament. Prior to its appearance in the game, announcements about the Celestial Tournament referred to it as a "Transmogrify potion."
See also
Community content is available under
CC-BY-NC-SA
unless otherwise noted.