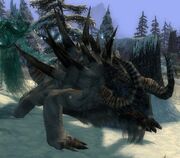 Berserkers are a subtype of Minotaurs encountered in the Far Shiverpeaks. Like most minotaurs, they are often found charging across the landscape in medium-sized herds. If you are not careful, you can easily be overwhelmed by multiple groups traveling across the same spot.
Types
Community content is available under
CC-BY-NC-SA
unless otherwise noted.