(Added Notes on the Boss & Mob - be aware of Dune Carvers, Thought Leeches, as well as Junundu idea)

Line 28:
Line 28:
 

==Notes==

 

==Notes==

 

*Be careful of Bohdabi's [[Deathly Swarm]]; it can cause massive amounts of damage to your party.

 

*Be careful of Bohdabi's [[Deathly Swarm]]; it can cause massive amounts of damage to your party.

 
+

*Bohdabi's mob has [[Awakened Thought Leech|Awakened Thought Leeches]] who will attempt to interrupt the party as well as [[Awakened Dune Carver|Awakened Dune Carvers]] using [[Vow of Silence]].

 
+

*If the party can manage to have one person (or [[hero]]) [[lure]] Bohdabi's mob (which can be quite difficult), it is much easier to deal with his mob in the [[Junundu]]. Be aware that regardless of how the [[lure]] is done, the entire mob will come running- the whole idea is to have seven people waiting with the [[Junundu]] in order to use the [[Junundu Siege]].

 
 
 

[[Category:Necromancer Bosses]] [[Category:The Sulfurous Wastes]] [[Category:Awakened Bosses]]

 

[[Category:Necromancer Bosses]] [[Category:The Sulfurous Wastes]] [[Category:Awakened Bosses]]
---
Revision as of 16:49, 22 November 2006
Bohdabi the Destructive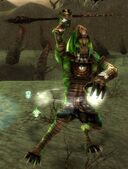 Classification
Description
Bohdabi the Destructive is a Necromancer boss that can be found in The Sulfurous Wastes.
Locations
Skills Used
Items Dropped
Notes
Be careful of Bohdabi's Deathly Swarm; it can cause massive amounts of damage to your party.
Bohdabi's mob has Awakened Thought Leeches who will attempt to interrupt the party as well as Awakened Dune Carvers using Vow of Silence.
If the party can manage to have one person (or hero) lure Bohdabi's mob (which can be quite difficult), it is much easier to deal with his mob in the Junundu. Be aware that regardless of how the lure is done, the entire mob will come running- the whole idea is to have seven people waiting with the Junundu in order to use the Junundu Siege.