Buk Dirayne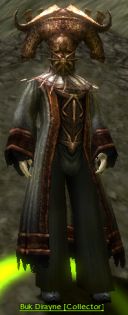 Classification
Dialogue
"Since the Jade Wind swept through these lands, the gaki have all but disappeared. The few that remain are wily devils that kidnap children in the night. My sister was abducted from our home when I was just a small child. No family should suffer the way mine did those years ago. I am sworn to protect children from the gaki, but I cannot do it alone. Help me purge these ignoble wretches from existence. Hunt the gaki and bring me 3 Skull Jujus, and I'll reward you with this:
Collector Items
Buk Dirayne
Location: Saint Anjeka's Shrine
Collecting: 3 Skull Jujus
Community content is available under
CC-BY-NC-SA
unless otherwise noted.