Butoh the Bold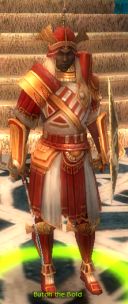 Classification
General
Butoh is a soldier of Vabbi.
Quests Involved In
Location
Dialogue
"Lyssa has indeed blessed us with another beautiful day. You can see her presence in the sparkling water and in the clear blue sky. I protect this beauty with my life and the lives of those I command."
Community content is available under
CC-BY-NC-SA
unless otherwise noted.