Buuran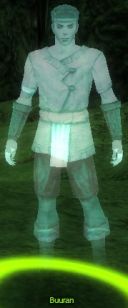 Classification
General
Buuran is a ghost who's disturbed from his sleep when the the resting place of the Staff of the Mists is disturbed. He asks you to destroy the scepter in The Hallowed Point quest.
Quests Given
Quests Involved In
Location

Dialogue
"Why has my rest been disturbed?"
Community content is available under
CC-BY-NC-SA
unless otherwise noted.