Captain Joran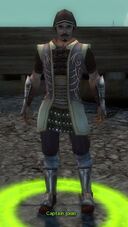 Classification
General
Captain Joran is the captain of the Sea Swift, a trading ship from Kryta.
Quests Involved In
Location
Dialogue
"You look rather business-savvy. I'm Captain Joran of the Sea Swift, and one of the few Krytans who still come to Cantha for trade.
Is there something I can help you with?"
Community content is available under
CC-BY-NC-SA
unless otherwise noted.