Ceratadon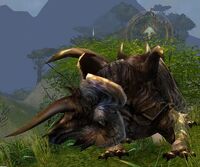 Classification
Description
Ceratadons are large, horned Dinosaurs found in swamps. Their bodies are covered in thick armor. Due to their defensive earth magic skills, they can take a long time to kill, and are formidable front line opponents due to Shockwave.
Locations
Skills used
Items dropped
Notes
Trivia
Ceratadons are based on Ceratops or other similar Ceratopsidae.
Miniature

Miniature Ceratadon is a gold rarity mini obtained by downloading the MMOZine #1. Only the first 40,000 people to download the magazine could get one.
---