D'Alessio Seaboard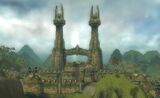 Basic Info
Neighbor(s)
None
General information
Area Name: D'Alessio Seaboard
Region: Kryta
General Description: D'alessio Seaboard is an explorable area to which Jiaju Tai transports players after Salma takes the throne. Its a base of operations for the White Mantle and they are the only enemies found in this area. Its main points of interest are the village of Hakewood and the Temple of Tolerance.
Bestiary
Monsters
Bosses
NPCs
Notes
This area can only be accessed by talking to Jiaju Tai in Lion's Arch after Salma has taken the throne.
The beach you spawn at will function as a resurrection shrine.
The only way to currently exit the area is to map travel.
Community content is available under
CC-BY-NC-SA
unless otherwise noted.