Dakk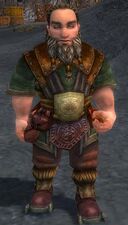 Classification
Dakk is probably the most talked-to skill trainer in the Prophecies Campaign, since he offers every single non-elite skill available in that campaign.
Skills offeredEdit
Note: Any skills that are not available as quest rewards are listed in bold.
Trainer
Warrior
Ranger
Monk
Necromancer
Mesmer
Elementalist
Dakk at Ember Light Camp
Offers all non-elite core and Prophecies skills.