The Darksteel Longbow is a weapon which is available in the Guild Wars: Eye of the North Prerelease Bonus Pack.
Weapon stats
Collector / Weaponsmith counterpart
This weapon's stats can be fully duplicated with:
Notes
This longbow can be upgraded with a Bow Grip, but any new mods added to this weapon cannot be salvaged.
This item is always customized for the character that the /bonus command was used with. However, this command can be reused on each character, consistently respawning the weapon.
Although the weapon is customized for the character, heroes can still use it. When using the /bonus command while a hero has it equipped, it creates a second item in the character's inventory that can be used normally.
It cannot be placed in the trade window.
It cannot be dropped.
Dye
Dye affects the entire bow. The default color looks to be yellow.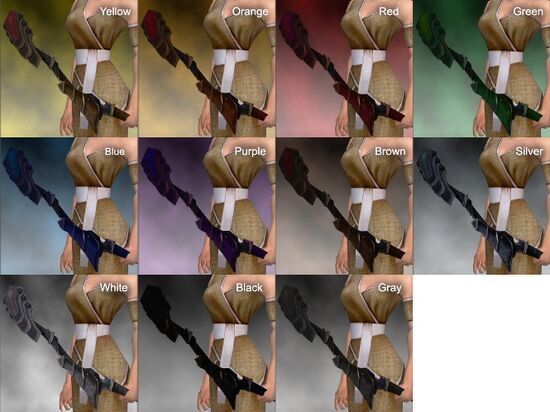 Trivia
Darksteel in Magic the Gathering is a metal of such hardness and strength that it can scratch both adamantium and Diamond. This could be a reason as to why the salvaging tools can not remove the upgrades on this bow.
A Darksteel Bow would be impossible to use because no entity would be able to string such a bow, let alone put enough tension on the bowstring to fire an arrow.
Community content is available under
CC-BY-NC-SA
unless otherwise noted.