Description
A very rare scythe which has a head that is vaguely insectoid and has a large tongue protruding from the mouth. The tongue makes up the blade of the scythe and is attached to a long, straight handle. This scythe is quite small in comparison to most other scythes.
Location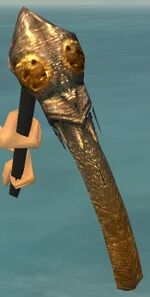 Dye
Dye affects the whole scythe, dyeing it to a deep version of the color applied. It is dyed brown by default.
Notes
Other scythes with this appearance:
Community content is available under
CC-BY-NC-SA
unless otherwise noted.