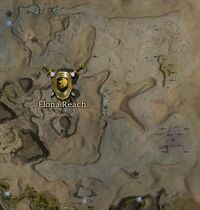 General Information
Area Name: Diviner's Ascent
Region: Crystal Desert
General Description: Diviner's Ascent is an area in the northeast of the Crystal Desert. It is a flat area filled with wide basins of sand. In the eastern parts, there are two batches of giant obelisks that stand defiantly in the middle of this flatness... A remnant of another civilization defeated by the desert.
Exits / Neighbour Areas
Outposts:
Bestiary
Monsters
Bosses
NPCs
Collectors:

Notes
To receive credit for the Vanquisher title track in this area you must defeat 99-162 (165 if The Mesmer's Path quest is active) monsters in Hard Mode. The few groups of hydra can run very quickly and have a huge patrol area. It is wise to kill them on sight to avoid having to look for them later.
Total exploration of this area will give 1.4% towards the Tyrian Explorer Title Track.
Community content is available under
CC-BY-NC-SA
unless otherwise noted.