Domain of Pain
Basic Info
Neighbor(s)
Gate of Fear
Map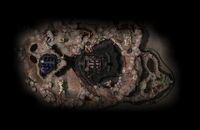 (click to enlarge)
General Information
Area Name: Domain of Pain
Region: Realm of Torment
Outposts & Cities
Gate of Pain: Can be reached by entering the portal in the far east of the map. You cannot re-enter the Domain of Pain from there however.
NPCs
Quests
Domain of Pain
Creatures
Monsters
Bosses
Shrines and Blessings
Notes
While in this area you suffer from Dreadful Pain causing 20 damage when activating skills.
This is the fleshy area described in articles and concept art.
Just outside the entrance to Gate of Fear there is a ruined temple of Balthazar with six dark, non-functional statues.
Spells such as Shielding Hands, and Shield of Absorption will subtract damage taken from the environmental effect, Dreadful Pain
There is a Treasure chest in the southeastern part of the center structure next to the river of souls.
---
Community content is available under
CC-BY-NC-SA
unless otherwise noted.