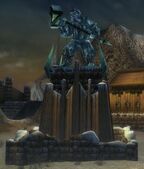 Description
Long ago, when the tribes of Deldrimor were united under one banner, Droknar's Forge was the seat of the mighty Dwarven nation's power. Named for one of its most beloved kings, the Forge has never once been taken by an enemy nation.
Droknar's Forge is the only town in the Shiverpeaks region. A statue of King Droknar himself can be seen in the main square. Impressive ice ships can be seen at the port.
There is also an altar of Glint here, tended by two Dwarves of the Brotherhood of the Dragon. After Ascension, kneeling (using the /kneel emote) near the statue will cause the Vision of Glint to appear.
Getting there
Complete the Dragon's Lair mission.
Alternatively, travel south from Beacon's Perch and through Camp Rankor, by way of the infamous Lornar's Pass. This method, known as the Drok's run, is very difficult.
Exits
NPCs
Quests
Droknar's Forge
Notes
The best armor available in Prophecies can be crafted here. The sets of 15k armor available from the Granite Citadel and Marhan's Grotto differ only in their cost and appearance.
Droknar's Forge is also one of the main trading hubs for players in the Prophecies Campaign. One can easily find buyers and sellers here.
Droknar's Forge (explorable) can only be reached by completing Hell's Precipice. The area that is Droknar's Forge explorable used to be an Arena.
This town is commonly referred to as "Droks".
A "Droks run" can be obtained from Beacon's perch.
Community content is available under
CC-BY-NC-SA
unless otherwise noted.