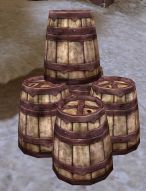 Dwarven Powder Keg Stations are piles of Powder Kegs found at various places in the Shiverpeak Mountains. They hold an unlimited supply of Kegs. To pick up a keg, click it like any other item.
They can also be found in Dungeons in Far Shiverpeaks
Community content is available under
CC-BY-NC-SA
unless otherwise noted.