Ehiyah

Classification
Dialogue
"Ahai, Sunspear! Have you seen a shipwreck on these beaches? A shipment of silver bound for Chahbek Village ran aground nearby. It's likely those wretched corsairs pocketed any silver they "found." If you're fighting corsairs and come across any Silver Bullion Coin, it belongs to the Istan authorities. If you bring me 3 Silver Bullion Coins, I'll see to it you're rewarded with:"
Collector Items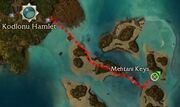 Ehiyah
Location: Mehtani Keys, on the southern tip of the central eastern island.
Collecting: 3 Silver Bullion Coins
Community content is available under
CC-BY-NC-SA
unless otherwise noted.