Elder Ezio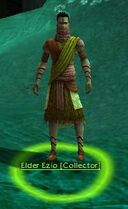 Classification
Dialogue
"Magnificent kraken spawn haunt this area. Their eyes, once dried and hardened, make wonderful pieces of jewelry. Would you bring me some? Eyes, that is. I want to surprise my wife, Elder Pomona, with a gift, but she's always squeezing the jelly out of them before I can meet with a jeweler. Disgusting, I know. Bring me 5 Kraken Eyes. For your efforts, I'll give you this:
Collector Items
Elder Ezio
Location: Unwaking Waters, outside Harvest Temple at the Resurrection Shrine
Collecting: 5 Kraken Eyes
Community content is available under
CC-BY-NC-SA
unless otherwise noted.