Elemental's Construct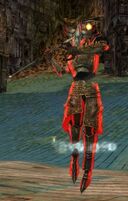 Classification
Description
The Elemental's Construct is an automaton of an elementalist inhabited by Shiro Tagachi's spirit.
Location
Skills used
Items dropped
Notes
It's possible to pick off the mob surrounding him without aggroing him. Attack from elevation using bows or spells until he's left with only 1 or 2 bodyguards.
Trivia
This boss is the only Shiro'ken boss in Sunjiang District to not follow the exact naming convention of <Profession>'s Construct.
In the Italian language translation, the boss follows said naming convention (Costrutto dell'Elementalista = Elementalist 's Construct).
Community content is available under
CC-BY-NC-SA
unless otherwise noted.