Engineer Tosi

Classification
General
Engineer Tosi is a Kournan who can be found at the entrance to the Mahnkelon Waterworks. Given his dialogue, he is probably an engineer maintaining the waterworks.
Quests Given
Location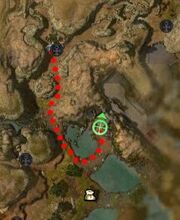 Dialogue
"Controlling this river is like taming a raging beast. But it is still far simpler than getting children to obey their father."
he will not give you the quest until ghost has appeared and he has run around screaming
Trivia
Italian engineer Franco Tosi was a pioneer in turbine engineering during the first years of the 20th century. To this day "Franco Tosi Meccanica" industries still produce turbines for hydroelectric plants.
Community content is available under
CC-BY-NC-SA
unless otherwise noted.