Description
The Eternal Blade is a long, translucent, blue-green sword that is often seen being wielded by Ghostly Heroes. It has a subtle, animated pulsating glow to it. It is very rare and highly coveted by players.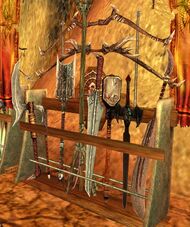 Location
The Underworld

The Underworld Chest

(spawns after completing all quests)
Dye
This weapon cannot be dyed.
Notes
See also