The Flute can be bought from merchants in Pre-Searing for 4 gold. It can be used as a Focus Item and will give you +1 Energy. You can also give it to the little girl Gwen (along with a few other items: a Small Girl's Cape, and Red Iris Flowers) and she will eventually give you the quest item Tapestry Shred.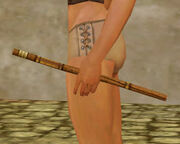 See also:
Community content is available under
CC-BY-NC-SA
unless otherwise noted.