Focus of Hanaku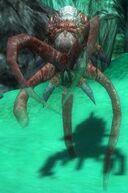 Classification
Description
Focus of Hanaku is a unique Kraken mesmer that always spawns at the same location in Rhea's Crater. Although Focus of Hanaku drops a unique item and deals double damage, he is not considered a boss. Hence, you cannot capture skills from him with a Signet of Capture, and you do not get a morale boost from killing him.
Location
Skills used
Items dropped
Community content is available under
CC-BY-NC-SA
unless otherwise noted.