Fopp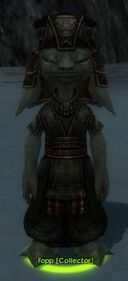 Classification
An Asura collector south east of the starting point of level 1 in the Frostmaw's Burrows dungeon, near to Level 2 entrance.
Dialogue
"Egads, you call that an outfit? I wouldn't be caught buried in that atrocity. What you should be wearing is one of my chromatic scale suits...in a monochromatic color scheme, of course! Stylish, form-fitting, and stain resistant! I'd whip one up for you and save you the embarrassment of returning to the surface looking like a common grub wurm, but I'm fresh out of scales. I've got an idea: you fetch me 5 Chromatic Scales and I'll give you your pick of my wares. How does that sound?"
Collector Items
Fopp
Location: Frostmaw's Burrows, first level
Collecting: 5 Chromatic Scales
Community content is available under
CC-BY-NC-SA
unless otherwise noted.