Fury Titan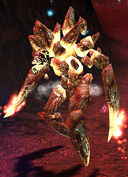 Classification
Description
Two Fury Titans are spawned when a Despair Titan is slain. They resemble the Hands or Fists of the Titans. These are formidable foes that can cause multiple conditions and will rip a group of casters apart with ease if not controlled.
Locations
Skills used
Items dropped
Nihil's Daggers (unique) (only confirmed to drop from the Fury Titans in the fourth chamber but whilst in Hard Mode, they can drop in other chambers as well)
Notes
Community content is available under
CC-BY-NC-SA
unless otherwise noted.