Fuu Rin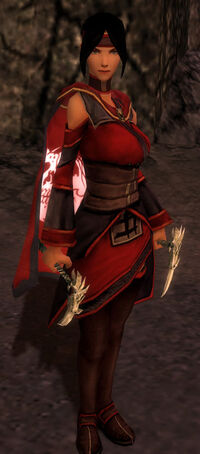 Classification
Description
Fuu Rin is the Assassin henchman available in Heroes' Ascent.
Location
Dialogue
My master told me that the life of an assassin is a lonely one, but I'm still surprised that my brother Kah Xan and I are the only assassins to answer the Zaishen's call. Apparently many of master's other students have recently taken to raiding the treasures of Grenth's realm. I decided that volunteering my services to the Zaishen would be a better choice. Riches from the lord of the Underworld will not come without a price, and it will be a high one.
Here are the skills I will bring to the next battle:
Skills used
Evaluation
Trivia
Fuu Rin was added in the October 29th, 2009, game update. Her skillbar and name were submitted by the player Pnoy Pride, one of the winners of the Henchman skill bar contest.
She wields Dragon Kamas.
She shares her character model with the Crimson Skull Mesmers.
She performs the /excited, /ponder, and /violin emotes.
Her dialogue is a reference to the various Assassins that speed clear the Underworld.
When put in fornt of Kah Xan, her name is the phonetic form of Fuu Rin Ka Zaan, a war cry used in feudal Japan.
---
Community content is available under
CC-BY-NC-SA
unless otherwise noted.