DISCLAIMER: This article describes software written by a third party. GuildWars Wikia (a fan fiction wiki) does not endorse, explicitly or otherwise, the use of any third party tools. As with all third party software, the user should investigate the tool themselves and take precautions prior to installation in order to protect their privacy and security.
Description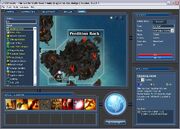 GWFreaks is a popular open source offline character builder tool that helps players to plan ahead different combinations without having to actually have the skill or equipment in the game. Among its features are:
Notes
Builds can be exported and posted on a website or a forum.
Builds created with the tool automatically appear in your saved builds list.
External Links