Gellir Frostshield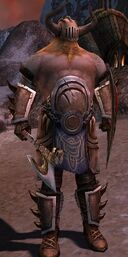 Classification
Description
This is the access NPC for The Norn Fighting Tournament minigame.
Locations
Dialogue
"You want to enter Magni's tournament? Hah! You do look a little more fit than some others, but you're certainly no match for Magni the Bison! That will be 100 gold for the honor of participating...and the cost of the pine box."
Notes
Community content is available under
CC-BY-NC-SA
unless otherwise noted.