The Ghost-in-the-Box is an item available during the Halloween special events.
Acquisition
Notes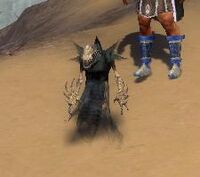 Using a Ghost-in-the-Box will cause a small ghost, something like a miniature Wraith to appear in front of you with a slightly startling noise and the word "Boo!" above its head, stay for a brief time, then disappear in a puff of smoke with another yell.
When a ghost disappears, the "death" will trigger Soul Reaping effects. The ghost does not otherwise interact with any skills or abilities.
Trivia
On November 30, 2006 there was a bug affecting the Ghost-in-the-Box ghosts. The bug caused the ghosts not to "die" as they normally do. Players took advantage of this and spammed the Chantry of Secrets with ghosts while waiting for the Domain of Anguish to unveil. ArenaNet patched it somewhat quickly, however Chantry of Secrets among many other towns throughout all three chapters enjoyed the 'Ghost Party' for a few hours. (Ghost Glitch Screenshot)
---
Community content is available under
CC-BY-NC-SA
unless otherwise noted.