Grandfather Kringle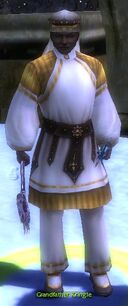 Classification
General
Grandfather Kringle is a nice old man standing around in Kamadan handing out quests.
Quests given
Location
Dialogue
"Can you believe it's time for the Wintersday festival again? My, how this year has flown by...."
Notes
His quests will not be available if you have any of Elder Skruuj's quests active.
Trivia
This character is likely a reference to Kris Kringle.