Guardsman Ayoki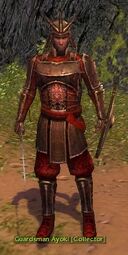 Classification
Dialogue
"Good day. No doubt you have heard of the notorious Crimson Skull? Members of this unsavory guild have been declared outlaws by the emperor himself for acts of murder, banditry, arson, and sedition against the Empire. Any who hunt down the Crimson Skull will be rewarded. If you bring me 3 Copper Crimson Skull Coins as proof that you have rid this world of some of these outlaws, I will give you this in return:"
Collector Items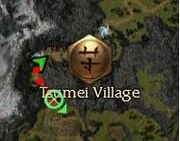 Guardsman Ayoki
Location: Panjiang Peninsula near the portal from Tsumei Village
Collecting: 3 Copper Crimson Skull Coins

Community content is available under
CC-BY-NC-SA
unless otherwise noted.