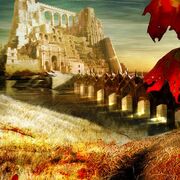 Introduction
Guild Wars Prophecies was globally released on April 28, 2005 as ArenaNet's first campaign in the Guild Wars world. It is also commonly referred to as Chapter One, Campaign One, and while not initially was later to also be known as Prophecies Campaign, or just Prophecies.
Relationship with other Guild Wars campaigns
Guild Wars Prophecies is a stand alone product and doesn't require players to own any other campaign. However, there is a high degree of interaction between campaigns if their respective retail keys are linked to a single account. Players who own multiple campaigns are able to take any PvE Prophecies characters that have reached Lion's Arch to Kaineng Center for access to Factions or Kamadan, Jewel of Istan for access to Nightfall. This process also works in reverse.
Story
While the original campaign was simply titled Guild Wars, the title Prophecies was later added during the introduction of the Factions campaign to distinguish the two, the name chosen because the story of the first campaign loosely revolves around the Flameseeker Prophecies taking place on the continent of Tyria.
Features
The following features were released with Guild Wars Prophecies:
The continent of Tyria:
6 core professions:
Henchmen to accompany you if human-players unavailable
Character slots

Four slots total for a stand-alone Prophecies Campaign account
Four slots plus two additonal slots for each combined campaign
(More character slots can be purchased separately)

214 new Skills, incl. 60 Elite Skills:

32-39 skills for each core profession

Equipment:
Creatures:

??? monsters
9 additional pets for Rangers
For a list of Prophecies pets see: Pets (Prophecies)
See also
Community content is available under
CC-BY-NC-SA
unless otherwise noted.