This is an explorable area entry. For information on the location Gyala Hatchery, see Gyala Hatchery (location), for information on the mission Gyala Hatchery, see Gyala Hatchery (mission).
General Information
Gyala Hatchery is an explorable area in the Jade Sea. The western part is open jade, but there is a large island in the centre-east of this region and a few smaller islands and excavated regions south of it.
Exits
Neighbor Cities, Missions, Outposts
Neighbor Areas
Bestiary
NPCs
Monsters
Animals
Bosses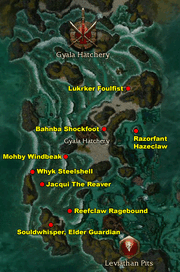 Quests
Gyala Hatchery
Shrines and Blessings
Unoccupied shrine.
Notes
You can find a giant Irukandji creature encased in Jade(pic) in a small place on the map with water.[1]
There is also a Leviathan frozen in Jade just North of the entrance to the hatchery, West of the portal to Rhea's Crater.
To receive credit for the Vanquisher title track in this area you must defeat 185-210 monsters in Hard Mode.
---
Community content is available under
CC-BY-NC-SA
unless otherwise noted.