Hedge Wizard Lohhaj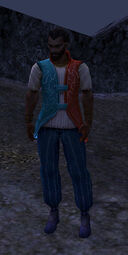 Classification
General
Lohhaj is one of the hedge wizards of the Garden of Seborhin. The hedge wizards are ancient caretakers and protectors of the garden. He has been driven mad by the coming of Nightfall.
Quests Involved In
Location
Dialogue
"We are the caretakers of the Garden of Seborhin. We ensure that the Seborhin, in all its beauty, flourishes."
Community content is available under
CC-BY-NC-SA
unless otherwise noted.