Hoju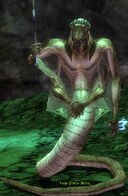 Classification
General
Hoju is a Hero Skill Trainer.
Location
Skills Offered
Skills in italics are available for free as quest rewards in at least one campaign.
Skills in bold are Nightfall campaign skills.
Skills in bold italics are Sunspear skills.
Trainer
Warrior

Ranger

Monk

Necromancer

Mesmer

Elementalist

Assassin

Ritualist

Paragon

Dervish

Hoju at
Gate of Torment
Trivia
His name may be a reference to the Simpsons, where Homer asks Bart, "Do you want to change your name to Homer Junior? The kids can call you Ho-Ju."
Community content is available under
CC-BY-NC-SA
unless otherwise noted.