Horde of Darkness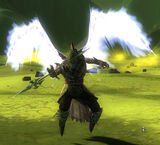 Classification
The Horde of Darkness are an elite force within the Margonites. Once they were part of the army assisting Abaddon fighting the other gods. Now they are immune to most kind of damage except Junundu Siege, taking no damage from most, if not all, other sources.
Locations
Skills Used
Items Dropped
Notes
Community content is available under
CC-BY-NC-SA
unless otherwise noted.